Ye gods, Daisy.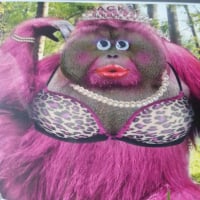 If I had a brain I'd be dangerous. :roll:

This morning I decided it was time to iron his shirts (eleven of them). Gradually the operation swung into motion: go to the kitchen, pour filtered water into the iron jug (you know, the little plastic one they supply with a steam iron), unplug the kettle, plug in the iron, sort out the board whilst the iron heats, fetch the shirts et voila! Begin!

Yeah, right. The iron was up to temperature but not emitting any steam. I checked it was plugged in, that the thermo was up to temp, that the steam valve was switched to 'on' - I even held it over the sink and pressed the 'burst of steam' button - two healthy gusts burst forth but it wasn't making those comforting little puffing noises a steam iron makes when lifted from a garment. Neither was it dispensing with the creases. Unbidden tears rolled down my cheeks, I switched it off and went into the dining room for a blub of sheer frustration.

On deciding that a cuppa might be of benefit I walked back into the kitchen. The first thing that hit my eye was the little jug of water - un-tipped into the iron. :oops: Ye gods, Daisy. :roll: To paraphrase A A Milne I am indeed a flower of very little brain.
Comments