Freshly-cooked tuna can be pink in the middle . . .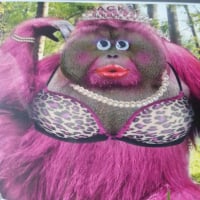 . . . . . but raw and cold? I think not. 'Im indoors and me went out for lunch (I drove
) so we went to a pub near the Felixstowe Ferry and ordered lunch. I wanted the fresh tuna steak with new potatoes and an un-dressed salad, what arrived was indeed a tuna steak but with chips and a salad smothered in goo. (Mr DD is not very good sometimes at remembering things). As he was already tucking into his liver and onions (his was delivered five minuted before mine arrived which wasn't very impressive) I started my meal.
The tuna was lovely until I reached the thickest part, along the way various bits had been pink in the middle and hot, but this small section was raw and cold. I lost my appetite for the meal I hadn't ordered and complained, politely, to the waitress when she came to clear. I was offered a free dessert as recompense so opted for the sorbet of the day - passionfruit. What arrived was mango.
I don't think I will be going back there in a hurry. He had a lovely dinner, which I am pleased about, and he is now sound asleep in front of the rugby. I am off to pour myself a beer. DD
PS Beatrice is utterly beautiful. I have driven just over 50 miles in her so far and don't feel any discomfort at all. I did bash the rear bumper on the neighbour's fence that backs on to our drive and it's slightly scratched but I now know the trick: once her snout is in I have no more room to maneouvre.
Comments
Categories
942

Welcome

39.4K

Our Community

294

Chat and News