Move over Heston B, you have a rival.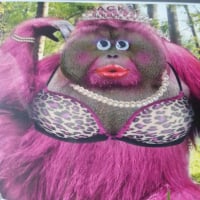 Forget serving food with clouds, foams and mousses, with its textures and hints, drizzles and raindrops. Go all out and do it the Daisy way - last night's House Special was Lasagne with Dust and Gravel.
Earlier yesterday I dug out my Beige Beauties because both wrists were misbehaving in fine style. Having worn them for part of the afternoon things felt better so I blithely assumed that all would be well in taking the lasagne from the oven and placing it on the side.
I was wrong. I had foolishly put the glass dish on a baking tray (to catch the drips) but halfway to the worktop the tray flexed, my right hand responded with an involuntary movement which put things at the wrong angle and down went the meal. Alas last night's customer was sitting in the same room so there was no chance to scrape and serve.
The dust was present on the cupboard doors (beautifully smeared like a piece of modern art) and the kickboards and the gravel had been brought in by Himself when he arrived home. So, a dinner which could have lasted two meals was binned, I hunted out dome fish fingers for him, hastily served with a rapidly boiled potato and some soggy broccoli. The BBs were donned once again and, after a restless night, are on again. The last thing I need is tea over my keyboard.
If you wish to dine Chez Daisy please ensure your tetanus is up-to-date. DD
Comments
Categories
746

Welcome

39.2K

Our Community

495

Chat and News