What would make an ideal lavatory?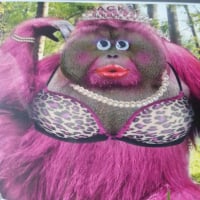 Sticky's post about being locked in the lavatory set me a-thinking and I have come up with some ideas.
1. A sliding door. I find the necessarily wide doors difficult to open when I'm on my sticks because they mostly open towards one so I have to shuffle backwards (let's face it, there are times when I struggle with shuffling forwards). I have also nudged people on leaving the lavatory (even though I cautiously open the door) because I cannot see who is where. I think a sliding door solves this and would be activated by sitting or standing within a certain zone: once the lavatory is occupied this mechanism would be automatically disabled (oooh, wrong choice of words there, sorry :oops: )
2. A height adjustable throne (now that's a challenge for a plumber!) I am not as tall as I used to be but I'm still fairly lengthy. Some have never been lengthy so what suits them doesn't suit me and vice versa. I am still pondering how to adjust the height. Got it: there will be a selection of toilet seat raisers available, prod the one of your choice by any means available and it will swing into position. It will be automatically cleaned and returned to its position when the lavatory is flushed.
3. The rails. Now, I see these as a problem area: they need to be up to allow access for chair users, lowered to aid rising then raised again to permit egress to said chair. (If you are a chair user do I have this sequence correct?) This is where the robot comes in.
There would be a number of ways to summon said robot (who is concealed in the wall) - a set of buttons at various heights could be pushed by fingers, an elbow or forehead, voice control may also work (simplicity suggests the word 'now' but a giggle might be more fun) and he emerges, drops the rail and retreats for privacy. After proceedings utter another 'now' or giggle and he re-emerges to raise the rail and give a thumbs-up.
4. The flush. Another problem area, methinks, and maybe another role for the rail robot?
5. Two washbasins and two hand-dryers please (not the Dys*n blade efforts, dropping one's hands into those is tricky). One set at chair height, the other at the usual height. For the basins I think lever taps work for everyone but soap dispensers are a different story. I think two mini-robots are the answer here, as soon as the lever tap is operated on either basin it appears from the wall, waits until a hand is held under its nozzle and dispenses a set dose of hand wash: it then returns to its housing.
6. It's time to leave so back to the sliding door. Again I think sitting or standing in a certain zone is the answer but maybe a time-delay between the wash basin robots returning and the door opening is a better answer - at least no innocent passer-by will be injured.
Am I on the right track? DD
Comments
Categories
931

Welcome

39.4K

Our Community

499

Chat and News