My leg is lying to me!! Welcome to referred pain.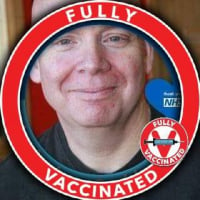 It took two Physios to diagnose hip OA. The first one got halfway there and diagnosed a tight hip capsule. You know you're old when you're hurting from places you'd never heard of before. I half-believed him. He clearly demonstrated how tight and weak my hip was, but explained intense thigh, knee and shin pain as having the same cause. I just didn't buy it. There HAD to be more going on, and I got that upsetting feeling when you feel your clinician isn't quite up to it.
The second one gave my leg and knee a thorough prodding and could get no pain response at all. He confirmed a tight hip capsule then dropped the life-changing bombshell - what was causing the tight hip capsule was hip OA. Oh ****.
He then went on to explain the phenomenon of referred pain, and showed me an online diagram that highlighted the exact areas I was hurting in. As a retired hypnotherapist I know how your perception can lie to you, but was now made to realize this extends to the realm of pain. The excruciating pain in my knee, thigh and shin was actually my hip hacking into the nerves they're connected to.
It is an experience both weird and unpleasant in equal proportion, and I'm interested to hear of similar experiences.
Comments