It's only when you see the X-Ray...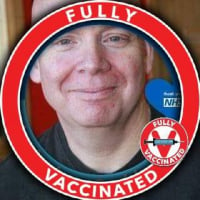 There's something definitive about the X-Ray. Up to that point, there's a shaft of hope. Maybe it's not that bad really - just a tight hip capsule, a strained groin, or dodgy nerves. You've had the diagnosis, you've acted as if you've got it, but you don't really know - until you see the X-Ray.
And there it is. A ball looking like it's trying to bury itself in the socket - not a shred of cartilage to be seen, whilst on the left side, the hip seems to be smirking at its' neighbour, with a nice comfy cushion of cartilage forming an ample buffer zone between ball and socket.
Hope evaporates. There's now no doubt at all. There it is, literally in black and white in front of your eyes. Your hip is in every sense screwed. There's a ball trying to screw itself as deeply into the socket as it can get, and starting to wear itself away.
"Hmm - no wonder it's causing pain" says the radiologist matter-of-factly. Meanwhile on the other extreme my boss thinks I'm putting it on. I have a dark fantasy of shoving my X-ray pic down her skeptical throat. Still not quite out of the rage stage then.
What is somewhat galling is everyone you meet seems to have happily had their new hips already. Even more galling - those who got one quick because they had BUPA. And here I am at the end of the longest queue in NHS history. I am prone to dark emotions, but now I feel a new one - one that I've never really had before - jealousy. Don't expect me to be happy for you with your nice new shiny hip. I am WAY too jealous.
Of course sooner or later you have to snap out of your wander over to the Dark Side. To my untrained eye, the ball, as firmly wedged as it is, seems relatively intact. An objective takes shape. My estimate: three years before I get a new hip. I need to make that ball last as long as I can - Physio, taking on the boss for arthritis-friendly working conditions, nagging doctors, delegating the lawnmowing to Missus (heaven help us)
Hope, I've decided, is overrated. Hope keeps you going down paths you should really abandon. When presented with a pic that shows you that your hip is doomed, you can focus on keeping it going for as long as possible before it becomes an eroded shaft of agony, and in the meantime push where you need to push for the only solution, a new hip. Journey of a thousand miles begins with a small step...
Comments