Change in outlook = happier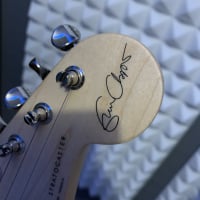 I had a slight change of state of mind today.
I had a bad day for pain and I spent a few hours this morning and then again later on this afternoon wrapped up warm in bed listening to the radio because it was the only place I could get comfortable and at least get rid of some of my pain.
Now normally this would really annoy me because Mondays I am on my own and normally take the opportunity to get out in my studio and do music stuff. However today instead of keeping on I gave in and it felt really good to have a few hours being snug and comfortable and I told myself it didn't matter rather than beating myself up over it and getting annoyed at the wasted time.
So I will in the future not get annoyed at myself for being nice to myself and allowing myself to be lazy, as it turned what would normally be a day of frustration and pain in the studio into a nice chilled out day listening to music because it was all I could manage.
Thought I'd share because someone else may realise they're being too hard on themselves.
Comments
Categories
2.3K

Welcome

40.4K

Our Community

333

Chat and News