Farewell Daisy, Hello Beatrice.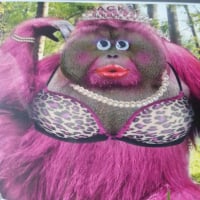 My belovéd little blue car and me are parting company, and I am sad. Mr DD bought her for my 50th birthday because I was struggling to drive the Zeddy that I had 'inherited' from him. (That was a Citroen ZX, a big, clunky old diesel.) Daisy has served me well for the past four-and-a-half-years but now, as I further deteriorate, she is becoming more and more unsuitable. She is too low, getting in and out is increasingly painful, and the driving position is no longer as comfortable thanks to the ankles, knees and sacros. She is a three door and I struggle with getting the Clatterator in and out (it doesn't fit in the boot). It's all a bit too much so I did some research and last Saturday I bought myself a new car; I get her tomorrow.
She is a silver Citroen C3 Picasso, just under fourteen months old and with less than 6400 on the clock. She is five door and the Clatterator fits in the boot. I have to climb in (bliss!) and getting out is far easier (gravity-assisted). I have taken her for a couple of long drives - the salesman is also the Motability advisor and knows his stuff when it comes to those with mobility issues. Her seating is very flexible, even the rear seats are on runners, she has air-con and cruise control which will be a boon on motorway or dual-carriageway journeys. She will see me through to the end of my driving days.
It is all thanks to my late parents that I have been able to buy her and I am very grateful to them for all their hard work and effort throughout their lives. Thank you, Mummy and Daddy. I know that my Pa would be delighted (and comfortable in her even though he was 6' 4") and that Ma would love the colour. My sports masseur is having Daisy for a nominal sum and the hand-over will be done tonight at 5pm. Gulp. Daisy and me had one last run out to Orford, then a spot of lunch in Melton, then I had her cleaned thoroughly inside and out. Bye-bye little blue car, hello to a much bigger silver one. I won't try to get it on the drive just yet, not until I am used to the size!
DD
Comments
Categories
942

Welcome

39.4K

Our Community

294

Chat and News