Update- if you're intrested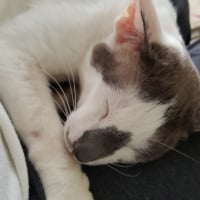 I just thought I'd give an update on the furrbies, Max and Kimba.
They have been with me for 10days now and have settled in much better than I had hoped. They are little pensioners now so not so spritely. Max is diabetic so he needs an injection twice a day, he is sooo good and just sits calmly while I give it to him, poor little man had been so stressed before I had him had pulled all the fur out on his tummy and the insides of his back legs
he went to the vet this morning and when I brought him home, he came out the carrier and rolled on the floor to have his tummy rubbed! his sister Kimba is so tiny ...about the size of a kitten!... has started to do roll overs for her tummy rub so I guess they are happy here
I still haven't got my head round how to upload a pic...sorry :roll:
Numps x
Pets come into our lives, and then leave paw-prints on our hearts.
Comments
Categories
2K

Welcome

40.2K

Our Community

329

Chat and News