Upgrade.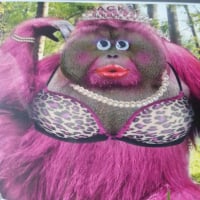 That's usually a word associated with getting something better than one paid for (in terms of compensation) but I've done that and paid for it. Needs must.
I don't know who will remember that the offisde front wheel fell off my rollator when on me hols in 2014 (I think I called the thread Three Wheels on my Wagon) but I do and with reason: yes, The Spouse effected an on-site repair but I have not felt too confident in that piece of kit since that episode; it's been getting worse due to wear and tear (where have I heard that term?
) so today I went in search of a new set of wheels thanks to the approach of a Bank Holiday and us going away come early June.
Me being me I have approached a number of rollator users over the past few months, tried theirs and concluded that one make was the way to go. It lacks some of the features I liked about mine (viz. hidden brake cables plus the fact that the handles could be folded to rest upon the struts) but this new one is lighter than mine, has a number of custom-made attachments plus a seven-year guarantee. Earlier this evening the garden of No.10 witnessed me and Mr DD trying both, comparing and contrasting, and both agreeing that the new one is worth every penny. I had to buy a backstrap but, as I see it, that was money well spent because it is adjustable.
It's fabulous. I went for a walk around the block and felt both comfortable and reassured, which for me is important.
I wish you all well.
DD
Comments
Categories
165

Welcome

38.7K

Our Community

476

Chat and News