Recipes.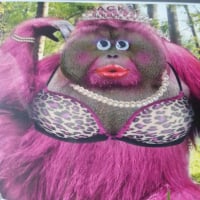 That's an original title, isn't it?
Pork in Balsamic Vinegar
(This feeds two, just double or treble quantities etc. as needed.)
Ingredients
1 pork tenderloin.
1/3 cup of olive oil.
1/3 cup of balsamic vinegar.
1 - 2 tablespoons of steak rub.
1 teaspoon of clear honey.
Method
Cut the loin in two and lightly score the surface of each half twice or thrice. Place in a strong food bag.
Mix together the oil, vinegar, steak rub and honey then pour over the loin.
Squash the air out of the bag, knot it, massage it and put in the fridge to keep cool.
Marinade for a minimum of two hours - I usually aim for around eight - massaging the bag from time to time.
Heat the oven to 200 degrees or 180 fan (I am not sure of the gas equivalents as I am on electric). Place in an ovenproof dish and bake for around thirty minutes, basting occasionally if you remember. Larger portions will, of course, take longer while smaller will be quicker. I serve it with potato and parsnip mash and plain green beans.
DD
Comments
Categories
1.2K

Welcome

39.6K

Our Community

299

Chat and News