I'm going to Latitude.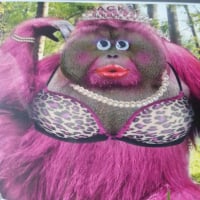 No, it's not a conference for geographers
it's a music festival. It's held on the Henham Estate near Southwold and we last went five years ago. We are hoping to repeat the great experiences of then (minus twice getting the motorhome stuck in very boggy ground) and we are able to do the whole thing and a ew days after as he is no longer constrained by work demands. For me, however, it's suddenly become rather bittersweet.
Five years ago I wore my walking boots and got around with two walking poles. talk about the good old days!
Now I'm taking my rollator - Hermione has been suggested but wheeling a big ol' gal like me across bumpy lumpy fields is asking a little too much of The Spouse (plus him having a coronary is not a good idea simply because I don't fancy driving the bus back
). The walking boots are consigned to the dustbin of high heels and mules, but festival wellies are more than feasible.
Of course there will be payback but I'm ready for it. I'm pretty careful the rest of the year but now I'm thinking 'To h*ll with it!' Life is for living, it's going to be great, I've timed the meds beautifully so there's no need to take a sharps etc. I shall rock around on me rolly to Fat Boy Slim, swoon at the dulcet tones of Reginald D Hunter (he could read the phone book, I'd be a happy girl), drink beer (it would be rude not to), spray me and our friends regularly with anti-bac stuff, laugh, cry, have some quiet times (the woodland at night is magical), watch some dance, hear some poetry and other readings, shop (
) and just generally enjoy life.
Look after yourselves, I'll see you soon. DD
Comments