I've been reunited with my BBs.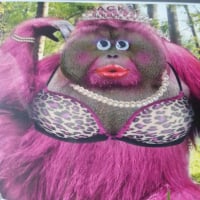 Yup, the beige beauties are once more to the fore (i.e. my working splints). I had a very vivid dream last night, I was on a fishing smack in turbulent seas so braced against the side by my knees, gripping the deck with my toes and hauling in the full nets by hand. I woke up with painful feet, knees and hands.
In discussion with The Spouse a couple of hours later I explained why I was wearing the BBs and he said 'Ah, that makes sense.' Apparently in my sleep I had been flapping my hands about as if pulling something heavy.
I am grateful that my splints were a gift from the NHS, and they fulfil a need, but those who know me will understand why I will be going on a hunt for something a little more 'glam'. Bet the only glamming I can find will be black. :roll: I plan on not doing much today sonic can rest my mitts as much as possible. We are going out for lunch so he can drive and I can have a glass of something lovely.
Right, I've whined (later I will have wined too) so am off until tomorrow. DD
Comments
Categories
934

Welcome

39.4K

Our Community

499

Chat and News