Join Chi Me classes free online. Find out more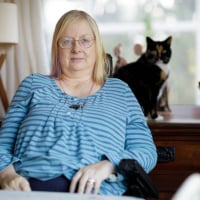 We are now delivering online Chi Me sessions weekly with the option of a morning or evening class. Each class lasts around 25/30 mins and can be done in the comfort of your own home. You require no equipment and it can be done seated or standing.
What is Chi Me?
Chi Me is a calm and relaxing form of exercise which is gentle and incorporates better breathing and good posture. We have several different qualified volunteer instructors delivering the sessions and as participants continue to join the sessions they will get to meet each one all delivering the same programme but with their own style.
Can anyone attend these sessions?
YES! Classes are open to everyone and we would welcome participants from other nations as that is the beauty of online services.
We have delivered 4 classes to date which have all been well attended. We are seeing a huge demand for Chi Me and are receiving some great feedback already. Our volunteers are enjoying delivering the classes as much as the participants and we are really happy to now have Chi Me as an ongoing service to the public.
How do I sign up or find out more?
If anyone would like further information on Chi Me or how to get involved please email Lisa on [email protected].
Tagged:
Comments
Categories
1.4K

Welcome

39.8K

Our Community

311

Chat and News